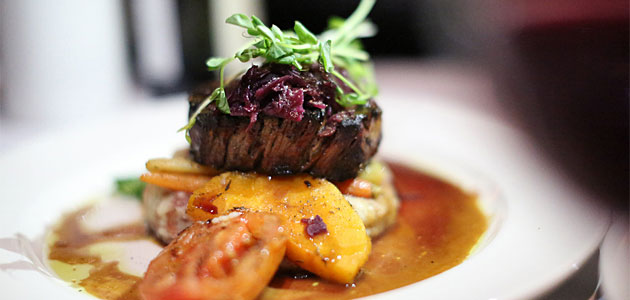 Maple Leaf Grill & Lounge – Banff, Calgary
---
Banff have a number of great restaurants but given we only stayed there for an evening, we ate at Maple Leaf Grill & Lounge. We started with Seared Scallops ($15), Stampede Bison Corn Dogs ($14) and the Elk Meatballs & Bannock Bread ($14). Appetizer portion came in three pieces per order, which was perfect since there were just the three of us, easy to share.
My favorite was definitely the scallops it was served with the wild boar belly and poached pears – really enjoyed the combined texture and flavor.
For the mains, we had the Québec Brome Lake Duck ($34), AAA Beef Tenderloin ($37) and the Apple Crusted Pork Tenderloin ($30). The portion for all the plates was very generous. The duck was perfectly cooked, pink in the middle, juicy and succulent. The apple braised red cabbage and the maple cream ale jus really adds another dimension to the beef tenderloin.
We were so full at the end of the meal that we just had one dessert to share – the Chocolate Molten Cake ($11). Perfect way to end the evening.
Maple Leaf Grill & Lounge
137 Banff Ave, Banff, Calgary, AB  » View Map
t. 403.760.7680