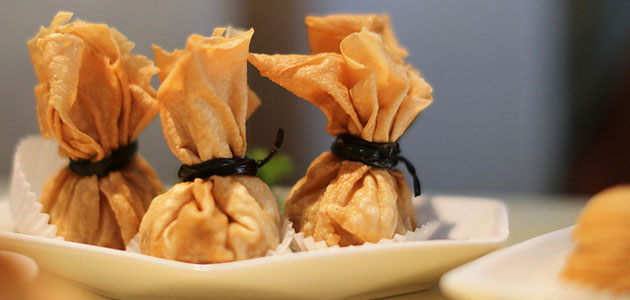 Dynasty Chinese Cuisine
---
Dynasty Chinese Cuisine has been around for many years and we've been going there since its' previous location on Bloor Street. They are now located in the heart of lovely downtown Yorkville (right opposite to a Green P parking), making an easier access, and within a neighbourhood of fashion retailers and gourmet dining.
One of their core strength is their food consistency. While there're many typical standard dim sum that all Chinese restaurants offers such as Har Gow and Siu Mai, Dynasty offers a few dim sum dishes that is unique to them with a creative twist.
So, when we eat with friends, I tend to choose those dishes, such as the oven baked turnip pastry, the pan fried black pepper beef tenderloin flower buns and the steamed rice crepe rolls with fish paste and fried dough, just to name a few.
The baked turnip pastry looks like a beehive, tastes crisp on the outside and soft on the inside. Other vegetarian options include the golden vegetarian fortune pockets and the steamed assorted mushrooms and snowpea leaves dumpling.
Surprisingly, one of the most favorite dish among our friends is the steam rice crepe rolls that is wrapped around a fried dough stuffed with fish paste. The contrasting texture and flavours complement one another nicely.
For dessert, Dynasty offers the popular flaky baked egg tarts and the chilled mango pudding.  However, we tend to prefer the golden fried sesame balls.
Dynasty Chinese Cuisine
69 Yorkville Ave, Toronto, ON, M5R 1B6 » View Map
t. 416.923.3323