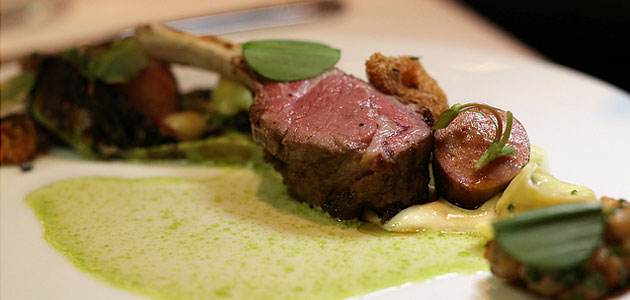 Splendido
---
It's been a long time since we've din at a fine dining restaurant.  Since David Lee has left Splendido, this is the first time we've been back with the new owners – chef Victor Barry and general manager Carlo Catallo.
Service was exceptional, all about the details and very attentive. They started us with an amuse bouche – creamy mushroom soup served with a mini profiteroles. It was great teaser, enough leaving you to want more.  There were three choices from the bread-basket – country, potato and rye. My favorite was the country bread, really like the aromatic crust. I almost wanted to ask if I could purchase a loaf.
We started with Chesapeake Bay Soft Shell Crab ($18), served on a tamari braised pork belly with shishito peppers, spring onion with a dash of togarashi seasoning.  The lightly battered crab has a nice crisp and the pork belly has that melt-in-your mouth tenderness, a great combination. Next, was the Ontario rainbow Trout Tartar ($20) mixed with caramelized cucumber, caraway (fennel), crème fraiche and dill pickle – a really refreshing dish, and I really wanted to nibble on the Yukon Gold Potato Frites ($8), really who can resist.
For the main, we had the Roasted Lamb ($47)– Rack, Shoulder & Merguez (sausage like) and Sweetbreads served on grilled romaine, garlic and pea ricotta tortellini with truffle oil. It was beautifully plated. The lamb rack was perfectly cooked, nice and tender.  Our friend really enjoyed the sweetbread.  We also had the Cumbrae Farms Rabbit Saddle, it was a bit too salty but they quickly corrected and remove this item from the bill. For the table, we had the roasted wild mushrooms and glazed asparagus, both were great sides to go with our mains.
We had to tried at least one dessert even thought we were quite full, so we had the Coconut Bavarois – cashew ice cream, roasted pineapple and lime coulis & basil. The roasted pineapple with the ice cream was a perfect combo – definitely hit the sweet spot.
Splendido
88 Harbord Street, Toronto, ON M5S 1G6 » View Map
t.416.929.7788