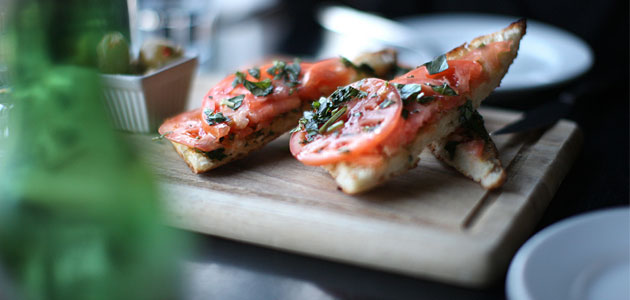 Terrazza
---
As the saying goes, there's always a story behind every business.  For Terrazza, it's a wonderful story about how a father followed his dream of opening up a restaurant and now his son is following his.  While Frankie (chef and owner) hasn't been formally trained in any culinary schools nor worked in any five stars hotels, it's his passion for food that drives this business.
The menu is basic simple Italian food consist of pizzas, paninis, pastas and salads. However, at the bottom of the menu, you'll notice a "Fat Lip" burger. According to our server, Frankie's dad use to run his burger joint at this spot before it became Terrazza.  It's a neightbourhood favorite, so they decide to keep that on the menu.
We shared the bruschetta for starter. Slices of tomatoes and basil served on a toasted open face Panini brushed with olive oil.  Really enjoy the nice crunch from the toasted Panini, unlike the typical bread slice.  For the main, I had the daily special which was a grill fish "Spigoga" an Italian sea bass, served whole debone with rice and asparagus ($21).  It's a meaty fish with lovely texture, a great dish for any fish lover.   Joe had the bunless "Fat Lip" burger ($11), served all dressed with a chop salad.
Unfortunately, there were just the 2 of us, so we couldn't try more dishes cause I do see other tables having pizzas and mussels, which looked pretty good as well.
On our way out, we noticed there's an interesting bike lot with a signage "No Parking, Bike Path $60 Fine". I wonder if anyone has ever been ticketed.
Terrazza
372 Harbord Street, Toronto, ON M6G 1H8 » View Map
t.647.343.3283