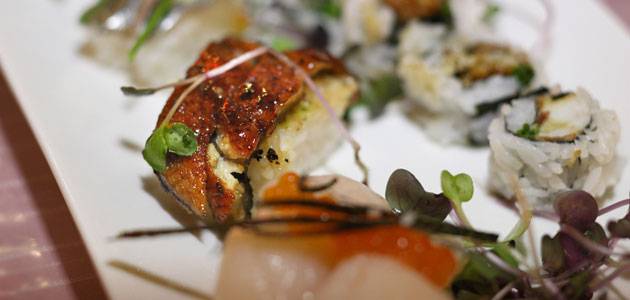 Kobo Gourmet
---
Hidden in Pickering is Kobo Gourmet, a Japanese fine dining restaurant.  We were fortunate to be invited to experience chef Nobu's food pair with Eastern North America's first sake brewery "The Ontario Spring Water Sake Company".
It was a special evening because we also met master sake brewer Yoshiko Takahashi from Nagano region of Japan and Kazuto Hayashi, the general manager.
We started with Kobo house green salad with sake lees vinaigrette; surprisingly the sake flavour was very subtle such that you can still taste the greens.  The second course was the fiddlehead and wild leeks soup, a very refreshing spring soup. Kazuto offered us the first sake – Teion Sakura, one of their signature-unpasteurized sake with 12% of alcohol. Like the soup, this sake was very refreshing.
Next up was the black cod saikyo miso glaze with prince mushrooms. The cod was very buttery and flavourful – it was delicious. Kazuto opened the Genshu sake, undiluted sake with 18% of alcohol. This sake has a much bolder and richer taste that goes really well with the cod.
Following the cod is the sushi platter, the one fish that stood out was the kibinago, it a tiny silver fish that belong in the herring family.  Not a typical fish you'll see in a sushi platter.  Here, we tried the 5th brew Arabashiri sake – sweeter sake in comparison to the other two.  So, I had a refill to go with our chocolate cake – something different to wrap up the evening.
Kobo Gourmet
512 Kingston Road, Toronto, ON  L1V 3N7 » view map
t. 905.839.4824