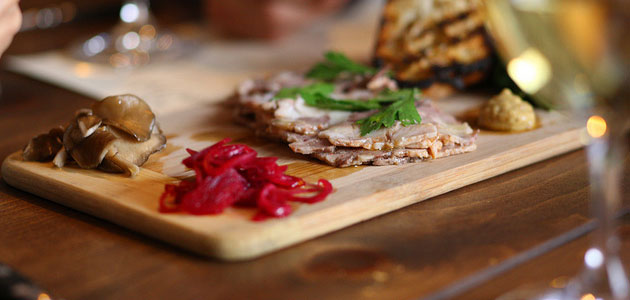 Enoteca Sociale
---
It's not everyday we get to din with our Italian chef friend. Tonight was a special night and he highly recommended Enoteca Sociale – an Italian Wine Bar with a cheese cave in the basement.
Obviously, we let him do all the ordering. It's a Monday night and their enomatic wines are half-priced, so the restaurant was pretty pack.
We started with a glass of Prosecco – an Italian white crisp sparkling wine and a few antipasti dishes.  The grilled octopus, swiss chard, new potatoe & chilli pepper, Baccala fritters, tripe ragu & caper aioli and Arancini con stracciatella, arugula & caramelized onion which was my favorite. It's amazing these creamy cheesy risotto croquettes can carry such wonderful flavour and texture.  Really speaks to how you can make wonders with such simple ingredients.
Our second glass was a Falanghina, another Italian white followed by half glass of Brunello, considered the most expensive wine of Italy.
Their daily charcuterie was Coppa di Testa, an Italian version of headcheese. Something we've never tried. It's basically the head of a pig, deboned, meat extracted made into a terrine.  As our friend was telling us how it was made, it sounded like lots of effort. Here, it was served thinly sliced with crusty bread, home made mustard, pickled onion and mushrooms. The fat in the meat gives a very rich taste, definitely a dish for sharing.
For the main, we had the Garum & red wine marinated Ontario flank steak, caramelized Brussels sprouts and two pasta dishes – The bucatini all'amatriciana and their meatballs special.  The meatballs were perfectly seasoned and spicy bucatini was delicious.
To finish off the meal, we had their Chocolate budino and Ricotta tiramisu with Americano and a glass of Italian bitters – Amaro Nonino like a true Italian.
Dinner for 3 with wine was around $300
Enoteca Sociale
1288 Dundas Street West, Toronto, ON  M6J 1X7 » view map
t. 416.534.1200