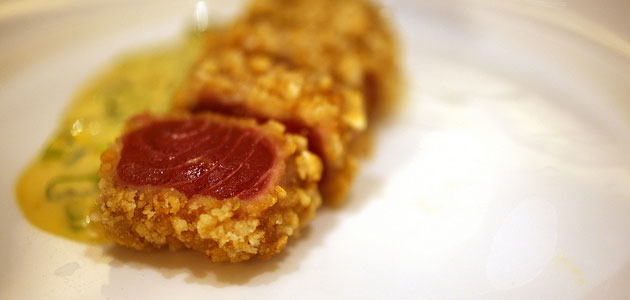 J&G Steakhouse at W Hotel
---
It was my first time visiting Washington D.C. and we decided to spend our last evening dining at W Hotel's J&G Steakhouse. One of the 18 restaurants owned by chef restaurateur Jean-Georges Vongerichten around the world.
As we entered the dimly lit dinning room, we noticed the ceiling was shimmering.  A closer look and you'll notice there're hidden tiny lights embedded randomly throughout the beautifully painted ceiling which was quiet spectacular.
Unlike typical dining room where we're seated across from each other, here we sat on a rather large love chair with pillows and a high back – very comfortable.
While there's a tasting menu being offered at $68 per person, we decided to order à la carte so we can try more of their interesting starter dishes. We took the advise of our server and started with 2 of their most popular raw dishes – Rice Cracker Crusted Tuna Citrus-Chilli Sauce, and Salmon Tartare, served with ginger dressing and fresh radish. The coated crust was perfectly cooked, nice and crispy while leaving the tuna perfectly raw. The salmon tartare was lovely, great texture and nicely flavoured with the ginger dressing.
The next two appetizers we wanted to try are their crab cake and crispy calamari.  The crab cake is served with pink grapefruit, avocado and ginger. We always savour each bite when eating fresh crabmeat.  And you will too if you've ever made crab cake where you had to remove crabmeat yourself, then you'll appreciate the amount of work that is involved. The calamari mimics a tempura batter – light and crispy texture.
After four starter dishes, we were already half full, portions were very generous considered they were starter dishes.  So, we decided to just have one main course to share and save room for dessert. While we were debating between ordering a steak or a seafood entree, it was a tough choice – afterall we're in a steakhouse. According to our server, their Seared Halibut Scallion-Chili Sauce Basil and Celery is one of their signature dishes. It is prepared with a special marinate. So, we decided to go with the fish.  The dish arrived and the halibut tasted great with the sauce – an excellent choice that still allows us to have room for dessert.
We finished our meal with their warm chocolate cake with vanilla bean ice cream and coffee. A memorable way to wrapped up our stay at Washington, DC.
Dinner for 2 with wine was around $160 US$
J&G Steakhouse at W Hotel
515 15th Street Northwest, Washington, DC 20004-1006 » view map
t. 202.661.2440