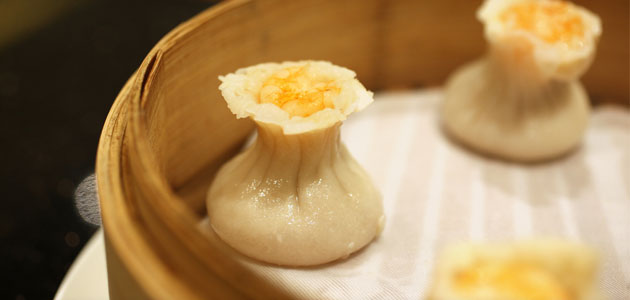 Din Tai Fung
---
After touring Shanghai's World Financial Center (tallest building in China) we ended up having dinner at Din Tai Fung, since it was conveniently located inside the shopping mall as you exit from the tour.
While the Chinese name 鼎泰豐 is the same as Ding Tai Fung, located in Markham, this is a global chain without the "g" in Din. Din Tai Fung is properly one of the most successful chains worldwide with head office located in Taiwan.
Upon entered, we're greeted by friendly server. As you're walking toward your table, you really can't help looking into the dumpling workshop alongside.
Mainly known for their 小籠包 (xiaolongbao) – steamed dumplings. The menu is like a book – full of professional photos on their dishes with description in both Chinese and English.  I think the more pages we flipped, the more dishes we wanted to try.  However, given there're only 2 of us and we were staying in a hotel, doggy bag isn't an option.  So, we decided to keep it simple and just ordered their featured set menu for two. Including dessert, there'll be 7 dishes we'll be able to sample.
The first dish, of course is their signature steam pork xiaolongbao, followed by two other dumplings: steamed pork and vegetable dumpling, and steamed pork and shrimp shao-mai. One bite into the xiaolongbao and you'll understand why they are so known for their dumplings. Similar to the importance of dough for pizza, in dumpling, the wrapper/skin is just as important.  While the wrapper is super thin, it's easily handle and still deliver a good texture without being mushy and sticky.  The steamed pork and shrimp shao-mai is unlike any typical dumpling.  The shao-mai sits on dumpling that is similar to a xiaolongbao – full of juicy meat.
After the 3 types of dumpling, we each have our own pot of hot and sour soup with pork and beancurd.  It was delicious, it actually taste like hot and sour, not vinegary with chili oil.  Followed by chicken and shrimp spring roll with fried rice.
Dessert was a sesame dumpling in soup with sweet rice wine. We both really enjoyed the sesame dumpling. As you bite into the thin transparent skin, the sesame paste is just oozing out from the dumpling – yum.  A perfect finish.
Set dinner was ¥128 per person
Din Tai Fung
Shanghai, World Financial Center
318 3/F, 100 Century Avenue, Lujiazhui, Pudong Shanghai » View Map
t. 86.21.6877.6886