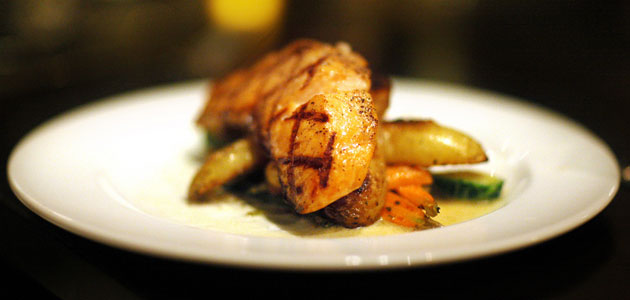 Quinn's Steakhouse & Irish Bar
---
After a soft opening for a few good months to ensure everything runs smoothly, Quinn's Steakhouse & Irish Bar is ready to officially market to the public.
Located in The Sheraton Centre, formally Le Biftheque Steakhouse. From the outside, you'll see a Shopsy's beside the Quinn's Steakhouse. Once inside, you'll see the two restaurants are connected.
We attended a dinner event and met the owner Gavin Quinn who also owns the Irish Embassy and PJ O'Brien's. We had a blast chatting with him along with a couple we met from Tasting Toronto.
Gavin gave us a highlight on some of the items on the menu, such as the Smoked Clare Island Organic Salmon on Irish Soda Bread. Where the salmon is from Ireland smoked in-house and the soda bread is freshly baked in-house as well. The bread recipe was customized just for this dish to give homage to Irish. As for the taste, the combination was delicious. The edge of the bread was crusty enough to support the salmon and the middle of the bread was soft – like the texture of the salmon so when you bite into it – almost melts in your mouth.  The Clare Island Organic Salmon is also served pan fried with lemon butter sauce as a main course.
Food aside, he also mentioned they carry around 140-150 different types of whiskey along with about 10 types of beer on tap and their signature cocktails – Quinn's Margarita and Corcair. I tried the Corcair and it's quite nice, not too sweet. Mixed with chamboord, vodka and cranberry & pineapple juice.
Since it's a steakhouse, for the main we had their Prime Rib au Jus and the New York Striploin. Both portions were very generous, enough for next day's lunch. The Prime Rib is 12oz cut and came with garlic mash, grilled vegetables along with horseradish and a petit cup of au jus. It was juicy and flavourful, cooked medium with a bit of pink, just the way we liked.
The New York Striploin looked stunning with the perfect grill marks. It's a 14oz cut grilled to perfection, served with baked potato, carrots, green beans, brussel sprouts and broiled tomato.
Before dessert, there's the cheese board, a selection of 6 different types of chesses. Three Irish – the Cashel blue, Dublin cheddar and Guinness cheddar. And three Artisanal Canadian cheeses – Firecracker horseradish cheddar, Blermit and Ewenity Cru (sheep's milk) served with truffled honey and walnuts.  Paired with a dessert wine – Barra of Mendocino Bella Dolce 2005 Petite Sirah.  My preference is with Artisanal cheeses, perhaps is what my taste buds are used to.
For dessert, there's the bread & butter pudding and the chocolate brownie. I only managed to have a few bites on the chocolate brownie and it was rich and decadent – perfect for a chocolate fan.
I hear from the staff that the Lamb Shank Braised in Guinness is also very good, perhaps that's what we'll try in our next visit.
Quinn's Steakhouse & Irish Bar
96 Richmond St West, Toronto  ON  M5H 2M9  » View Maps
t. 416.367.8466