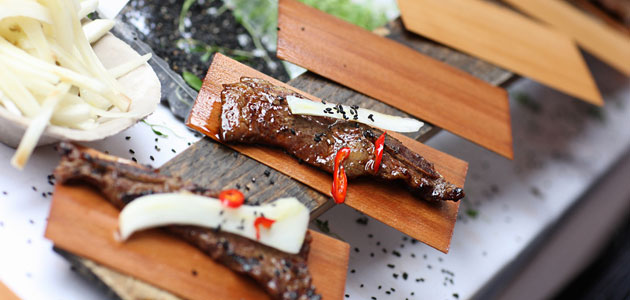 Brick Works Picnic 2009
---
This is the second year we attended the Evergreen annual picnic at the Brickworks and we brought along 2 friends to join us. As we're lining up to get in, we chatted with a volunteer and she mentioned this year's attendance was close to 1,100. That's pretty amazing.
We recognized some of the chef and producer from last year as well saw some new lineups. To be sure, this year there was definitely more wineries, more sponsors and more seating areas.
While one thing we were all quite impressed with aside from the food itself was how the food was served. All the cutleries and plates are eco-friendly and biodegradable. And some of the stations got quite creative. Langdon Hall served the elk mini sandwich on a wooden basswood rounds with their signature burned onto the wood. Vertical wrap their braised lamb on a soft crepe instead of typical tortilla flats. Table 17 served a Riesling jelly nested with a mini kiwi on a basil leaf. Ancaster Old Mill served kalbi on a thin wooden plank. Mildred's Temple Kitchen served their dosa on a corn husks. Zucca was serving gnocchi with a creamy sauce in an Areca leaf cone. In fact, many stations were serving on an Areca leaf plate in different shapes and sizes.
There were so many food stations, it's impossible to sampling everything – at least for us that is.  Some of the more memorable dishes we all agreed on are the Palais Royale's butter chicken with the apricot skewers. It was flavourful and juicy. One of our friends went back to Vertical for a second serving of their braised lamb. We really enjoyed Globe's potato and kale soup with a mini crostini, it was light and you can actually taste the kale. The bison sausage was very interesting, as we've never had that before – it had a nice sweetness to it. There was also the mini stuff pepper that was different. Pingue's proscuitto was also very nice, it was very buttery and one of our friends also went back for a second.
While we are more of a savory bunch, we didn't try many desserts or baked good just because we didn't want to fill up our stomach with starch.  We did manage to try Epic's honey ice ream in a brandy snap basket with blueberries compote as we had our eyes on it when we first enter.
Drink wise, we all loved the Waupoos apple cider, it was delicious. There're definitely more wineries than last year, so I had to pick and choose which ones I wanted to try. Clos Jordanne was an obvious choice as I heard great accolades about their wine and the fact they're not open to public makes is a good reason. Other wineries I tried include Malivoire, Southbrook and Stratus Wildass. Beer wise, I had a glass of Mill Street Organic lager and a dark ale from Wellington Brewery.
We finished off with Soma's chocolate and coffee from Merchants of Green Coffee – a perfect way to end the Sunday afternoon.
Evergreen Brick Works
550 Bayview Ave., Toronto, Ontario » View Map
Date: Sunday, October 4, 2009
Time: Noon – 4pm
Cost per person: $90 early bird register by Aug. 14 otherwise it's $110
Members have $10 discount