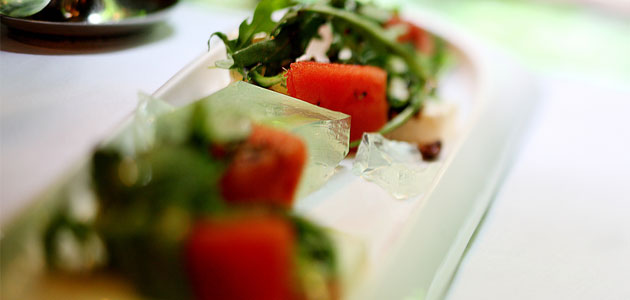 One if by Land, Two if by Sea
---
It's been a while since we've din in such a traditional romantic restaurant. Evidently, it used to be a colonial carriage house. This explains the expose brick interior, the high ceiling, the large painting, chandeliers and the fireplace.
When enter, there's a piano bar. Walk further, there's the host station that leads to the dining room. Each table is lit with classic tall candle sticks with a rose in the vase as the centerpiece. We sat by the window, looking over the garden with walls covered by Ivy – it was a lovely view.
Restaurant Week in New York is similar to Toronto's Summerlicious where restaurant offer 3 courses prix fixe for $35. One if by Land, Two if by Sea extended their menu through Labor Day. So, we opt for the prix fixe menu.
We started with the amuse bouche of liquid jelly with orange citric – interesting flavour. For appetizer, Joe had the mushroom tart. Presented in a deconstruction format where you see bottom layer of pastry, then the mushroom mix and top off with a mushroom cap. Garnished by baby zucchini, amaranth and salsa verde. I had the watermelon salad served with arugula, mint jelly, feta cheese and olives. It was very refreshing.
I had the pan seared red snapper while Joe had the bavette steak. The steak was nicely grilled with a bit of pink in the middle, served with pearl onions, confit tomato and roasted radish.
For dessert, I had the mascarpone cheesecake served with black current foam while Joe had the blueberry composition. It was served in a rock glass tumblers where you see all the layers of the composition – rosemary gel, yuzu curd, blueberry tapioca, blueberry sorbet and rosemary chip – quite delicious.
Dinner for Restaurant Week is $35 per person.
One if by Land, Two if by Sea
17 Barrow Street, New York, NY 10014 » View Map
t. 212.255.8649