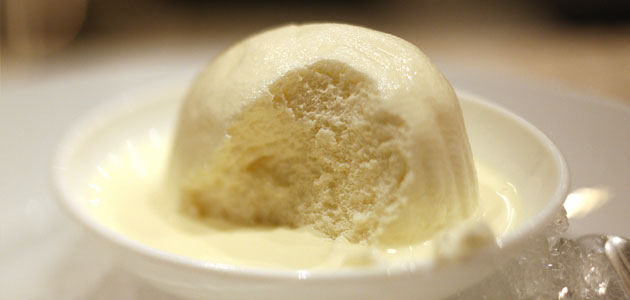 Chikalicious Dessert Bar
---
Can't believe we actually lined up for almost an hour to get into Chikalicious. But evidently, 20-45 minutes is the average.
Chikalicious is a dessert bar that serves only dessert as a prix fixe for $14. Wine pairing is optional for an additional of $7. The prix fixe starts with an amuse, choice of a dessert and petits fours. Across the street is their take-out shop with a different menu.
The interior is simple – open concept, expose kitchen with max seating capacity of about 20 people (if that).  We were seated at the bar, which was great cause we get to see the chefs in action. Chika (chef/owner) was a delight to watch – very meticulous; sets a perfect example of cook and clean. If only Joe can master a hint of that, then our kitchen doesn't have to look like it's been hit by a storm when he cooks.
Being our first visit, we let the chef choose our dessert and went for the wine pairing. The amuse was a fruity sorbet. One of the desserts was a cheese cake – Fromage Blanc Island; served on shaved ice looked like a snowball. It was very light and melts in your mouth. Unlike traditional cheesecake that is dense and heavy. Paired with a glass of Alvear Pedro Ximenez 2004 – a Spanish sherry that's very rich and decadent.
The other dessert was a warm chocolate tart, served with pink peppercorn ice cream and red wine sauce. One fork into the tart, the chocolate melts and mix with the ice cream and sauce. The combination was delicious. Paired with Churchill Graham Reserve Port – a very sweet and fruity wine.
We sat next to a pastry chef from Florida who was on her vacation. Evidently, she had 2 rounds of dessert at Chikalicious that evening, quite a fan of Chika. Beside her sat a couple who ordered an ice coffee. It was served in a wine glass with coffee ice cube where the server pour ice coffee from a Riedel Amadeo decanter – quite a presentation.
Chikalicious
203 East 10th Street, New York, NY 10003  » View Map
t. 212-995-9511