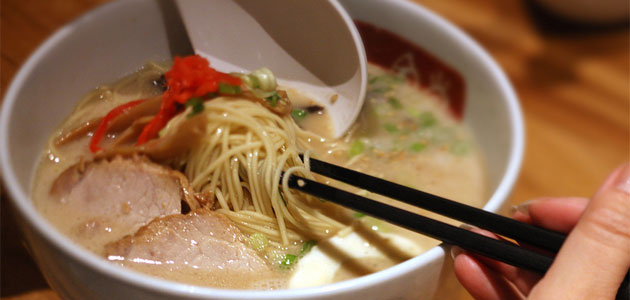 Ippudo NY
---
Ippudo (一風堂) was one of the noodle place our New York friends recommended. Evidently, it's a franchise ramen restaurant in Japan that's quite reputable found in 1985.
When entered, all the staff in one synchronized voice – well rehearsed, greet you. Open kitchen, so you can see all the action. While their tables are set up for larger crowd, most of them are being used as communal table for couples. Each tabletop is unique; the bar at the front is decorated with rows of dry noodle underneath the glass top. While inside the dining room, there is a table that uses white ropes instead of dry noodles to mimic the look of noodles.
The highlight of the ramen is that it's in-house hand made, as fresh as you can get. Given Ippudo's ramen originated in Hakata, I ordered the Shiromaru Hakata Classic, as described "The original tonkotsu (pork bone)" soup noodles with slices of simmered Berkshire pork, kikurage (wood ear mushroom), red pickled ginger, menma (dried bamboo), 1/2 hard boiled egg, sesame & scallions. The ramen was thin, white and silky smooth with a good bite, while the stock was milky and flavourful.
Joe ordered Akamaru Modern. According to our server, it's one of their most popular ramen in NY. It has the same tonkotsu soup noodles but with Ippudo's special sauce, miso paste and fragrant garlic oil. You can really taste the smokiness in the soup base.
Price: $13 per bowl
Ippudo NY
65 4th Ave. New York, NY 10003 » view map
t. 212.388.0088