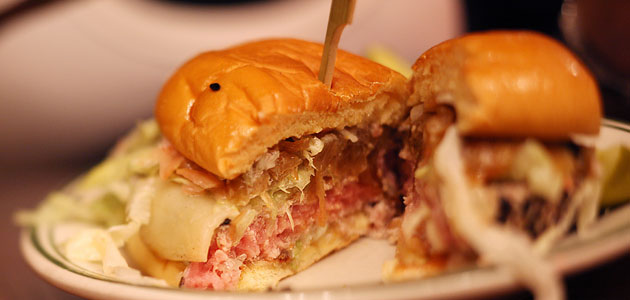 HB Burger
---
Due to flight delay, we didn't arrive in New York until 9pm. Since most of the stores are closed and shows have started, we decided to head toward Time Square to check out some action and grab a late dinner. HB Burger was where we ended up, right around the corner of Time Square.
HB Burger is actually own by Heartland Brewery. When you walk in, the interior reflects a 1920's pub with menus on the wall for burgers, sodas and beer. Catered to the theatre crowd, by the time we got there, it was quiet quite.
While I never had a tuna burger made from sashimi-grade tuna loin. I decided to give it a try with Ali (our server/host)'s recommendations of adding Swiss cheese. I also decided to add sautéed onions as well. The burger was delicious, loved the light wasabi sauce and ginger slaw. The burger was very juicy, cooked medium rare. Never thought of combining cheese and sashimi-grade tuna, but in this burger the flavour combined quite nicely.
Joe had their Favorite Beef burger cooked medium with sautéed onions, sliced pickles and mushrooms. The beef was nice and pink – juicy and moist. The buns were nice and soft so you focus your bite into the burger, not the bun.
For sharing, we tried their Tater Tots (also highly recommended by Ali) made with smoked slab bacon and jalapeno jack – something different than chips. And of course, we had beer, you're in a brewery, how can you not try their beer. Being adverturous, we tried their summer special – Apricot Ale. It was quiet refreshing, you can actually taste the apricot flavour – pretty cool.
Just when we were ready to grab the bill, Ali sold us on trying their World's Smallest Hot Fudge Sundae, how he put it was HB's way of "offering something sweet without over indulgence". I think we each had 2 spoonfuls, but that was good enough cause we were pretty full already.
Dinner for 2 is about $40
HB Burger
127 W. 43rd St. bet. Broadway & 6th Ave., New York » view map
t. 646.366.0235