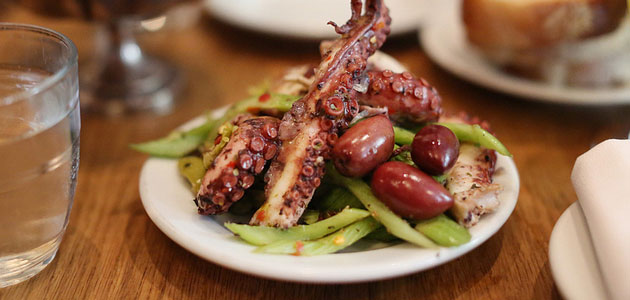 Buvette – New York
---
It's all about timing. We were checking out some of the shops along West Village on a Wednesday afternoon and stumbled across Buvette on Grove Street – a lovely little French Gastroteque: by definition, a casual place for anyone to drop by any time of the day to eat and drink.
The menu is made of small plates, like that of Spanish tapas but in French Parisian style. Perfect to indulge for an afternoon snack.
Lunch menu is divided into its' food category – legume, salads, sandwiches, fish, meat, eggs, pastries and on the go.  Then, there's a separate menu for cheese and charcuterie. We ordered three items to share: Salade de Niçoise, Poulpes (octopus, celery, capers & olives) and Saucisson sec a l'Huile (cured pork sausage marinated in olive oil).
I can't recall when's the last time I had such an amazing Nicoise salad, loaded with all the main ingredients and each item was perfectly cooked.  The octopus and the sausage was lovely marinated, the food tasted great.
Every effort from the exterior to the interior plays homage to the French Paris style even down to the dishes and how their croissants are display on the counter. Makes a great spot for a photo shoot and ironically, we happened to witness one when we were there.
Buvette
42 Grove Street, West Village, New York, NY » View Map
no reservations