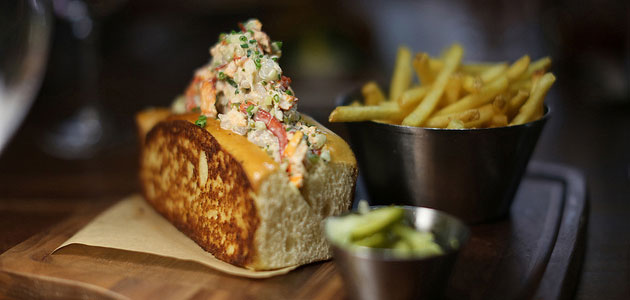 Earls Kitchen & Bar
---
We were invited to try the new spring menu at Earls and yes it was impressive – a five courses menu paired with their signature cocktails and wine.
The starter is a Leroy's Crispy Dry Ribs, Earls' famous dry ribs named after the founder Leroy Earl Fuller, paired with their Signature Caesar, the spice in the Caesar really takes the rib up another notch. Next up, Beef Carpaccio served with arugula, crispy capers, pickled red onion, deviled eggs, parmesan cheese with toasted ciabatta. Paired with their Moscow Mule, a vodka Collins with fresh grated ginger – really freshing.  Earls take their cocktail pretty serious we met their beverage director, Cameron Bogue who gave us his run down on their cocktail program.  Basically all juices are 100% freshly squeezed and syrups are handmade in house.
The Lobster and Prawn Roll is a meal on it's own. Lobster is pile high and served on a buttered griddled brioche bun with a side of Yukon fries and pickles, according to Chef Richard Baksh, its' their take on a New England sandwich.
Earls have a steak program that used only Certified Angus Beef, hand cut, aged between 21-35 days. We get to try their 16 oz Bone in Cab Ribeye, perfectly grilled with some pink in the middle – juicy and nicely flavored with their signature rub. We were so stuffed that we ended up doggy bagging the steak and dessert.
We were given a bottle of their signature rub to try it at home and I must admit, it was pretty awesome.
Earls Kitchen & Bar
150 King Street West – Suite 100,  Toronto, ON  M5H 1J9  » View Map
t.416.536.0079