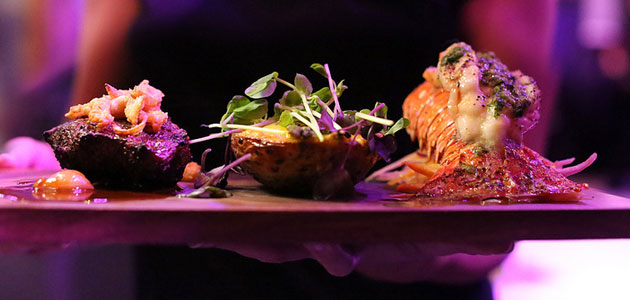 & Company Resto Bar
---
Unless you live in Mississauga, you might not be aware of &Company Resto Bar – a restaurant that turns into a dance club later in the night.
Thanks for the invite we were able to taste some of their new menu items as well as their old favorite.  Their menus were divided into Sharable, Salads, Traditional and Dessert.
For the Sharable, we tried their all time favorite Braised Beef Short Ribs ($16) and their new Lobster Taco ($19).  The short ribs were so tendered, it melt-in your mouth at your first bite. Combining with the celeriac puree, griddled pineapple, onion, walnuts, raisins and natural jus, I can totally see how this dish became one of their signature dishes. While the lobster taco was a bit messy to eat, the large chucks of lobster was well worth the mess.
One of the new menu items included the Surf and Turf ($29). An Atlantic lobster tail on a mango fennel slaw with a 6oz top sirloin steak served and double cheese baked potato. Generous portion and beautifully presented, we had to doggy bag part of the steak and potato.  The Penne Jambalaya ($19) is actually their staff favorite and we can totally see why that is the case.
We were really full by the end of the meal, but we had to try their new dessert – Brownie & Cookie Stack ($10). When arrived, it looked like a meal on it's own.  Two white chocolate fudge brownies and two dark chocolate cookies sandwiched between one another topped with ice cream, caramel and strawberries – scrumptious.
After dinner, they had a live Burlesque dinner show. What a way to kicked start the nightlife!
&Company Resto Bar
295 Enfield Place, Mississauga, ON  L5B 3J4 » View Map
t. 905.808.2112