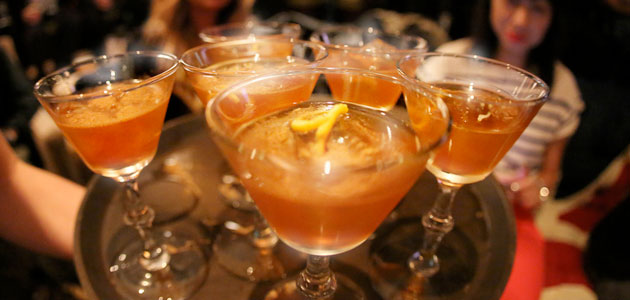 The Quail: A Firkin Pub
---
We were invited to experience the new breed of British pubs – the Firkin Revolution located on 1055 Yonge Street to try out their new cocktails and some finger foods.
Step inside and you can see all efforts has been made to give you a sense of the modern Brits. From the wall hangings down to the flag cover for the sofa, the Brits theme is unmistakable.  Given they are one of the biggest English pubs chain, I wonder whether all 30 Firkins' has been updated with this look.
They were featuring 4 cocktails, the Maple Leaf, Roasted toasted almond, Winter Pimm's and Frostbite. Retail from $7 to $9 per.  I'm not much of a cocktail person, but my prefer cocktail is the Winter Pimm's.
Food wise, we didn't really get to sample all that much except for their burger sliders, fish and chips and mini shepard pie which I thought was quite creative.
Here's a snippet footage from that night.
The Quail: A Firkin Pub
1055 Yonge St., Toronto, ON M4W 2L2 » View Map
t.416.962.0782