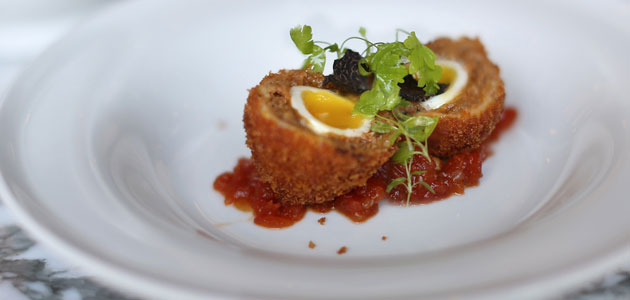 Weslodge Saloon
---
The large bright yellow doors from afar can easily be mistaken for an interior design store given the King and Spadina neighbourhood. Walk closer and you'll realized it's a restaurant furnished with hunting trophies of elk, bison and taxidermy of wild birds that resembles a hunting lodge. Another Charles Khabouth venture, the price tag might not be the like of La Société. But one look at the interior and you can tell that no expense is too great for this Weslodge Saloon.
We dropped by for Sunday brunch and surprisingly it wasn't busy – no lineups. Interesting brunch menu includes game meat such as bison pastrami, lamb bacon, duck bacon and lamb sausages.
Upon seated, our friendly server brought a platter of their daily assortment of fresh baked pastries and walk you through their selection.  Not baked in-house but all looks delicious. So we asked our server to surprise us, she brought us the Blueberry tart ($7).
Other dishes we ordered included the Scotch Egg ($5) – quail egg wrapped in chorizo, breaded then deep-fried served with black truffle and tomato jam. Nicely cooked with the runny yolk. The textures and flavours worked really well.
The Bison Pastrami ($16) smoked in-house is served with house pickled, aioli, apple slaw and house fries. You can really taste the smokiness in the meat – tender and moist. The tanginess of the apple slaw adds a nice touch to this sandwich.
The Provimi Schnitzel ($16) veal parmesan breaded, grill-fried to golden brown, topped with a fried egg served with arugula salad. Veal is perfectly cooked, juicy and flavourful.
Would of loved to tried a few more items on the menu but given it was just the two of us, I guess we'll just have wait for another time.
Weslodge Saloon
480 King Street W. Toronto, ON M5V 1L7 » View Map
t.416.274.8766