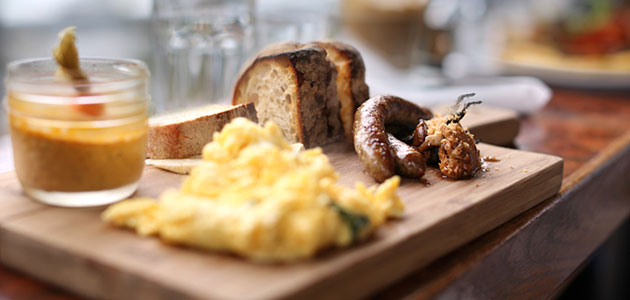 The Bellevue
---
It's been a long time since we've visited Kensington Market, so we decided to drive by to check out some of the eatery on a Sunday morning.  Corner of Nassau and Bellevue is The Bellevue restaurant – a small rustic neightbourhood cafe. Upon enter we were greeted by the captain (Mr. Hercules) who gave us a few options as to where we can seat.
It's a very casual place with friendly staff and a small menu. We went with The Unusual ($12) and the Daily Omelette ($12).  The unusual consist of tarragon scramble egg with Sanagan's harvest sausage, wild mushrooms, cheese, pumpkin preserves and Woodlot sourdough bread.  All nicely presented on a wooden chop board.  Something different then your typical eggs benedict and what you would get from a greasy spoon.
The omelette is made French style with hot Italian peppers served with maple smoked bacon, sourdough bread and side salad.
With good food and friendly staff, it's a perfect neightbourhood spot to hang out for a casual meal.  I guess we were early, cause as we were leaving, the place is just about to get full.  Timing is everything.
The Bellevue
61a Bellevue Ave, Toronto, ON M5T 2N6 » View Map
t.647.340.8224