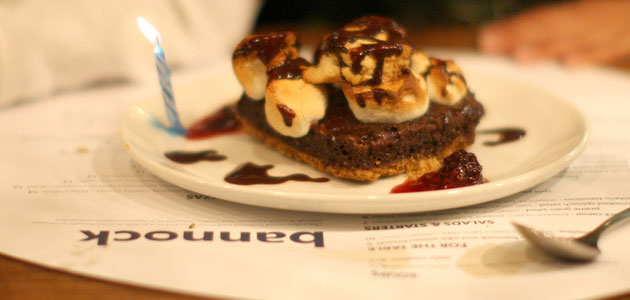 Bannock
---
Oliver & Bonacini has converted the Timothy's coffee shop by Queen and Bay into a grab-and-go café that offers Canadian comfort food at an affordable price. Everything in the menu is under $20.
The wood in the interior reflects a warm cottage feel. A take-out area located on one side and an eat-in dining area on the opposite end.
Our group has 5 adults and 2 kids. While there's no kids' menu, there is a kiddy's favourite – mac and cheese.  Since we were there for lunch, we decided to just order a bit of everything and shared. Right away, we ordered the two items that was list under "for the table", their garlic & herb bannock and artisan breads ($6), Poutine ($10) and their Mac and cheese ($14). We all enjoyed the mac and cheese, so much we almost had to order another one.
Other items included the Bannock Bannock ($14) their signature item, with house smoked salmon, onion, cumin and cream cheese.  The salmon is lightly smoked, texture is almost like a sashimi, and great for those who don't like the typical store brought smoke salmon.
A roast duck poutine pizza ($15), according to our server is the most popular pizza. Literally, it's a pile of poutine sitting on the pizza. If you like poutine, you'll like this pizza.
Their one and only Arcadian court chicken pot pie ($16) which was creamy and nicely flavour.  And the Whitefish and shrimp cake and chips ($15).  Unfortunately, they didn't have the sweet potato fries that we wanted.
For dessert, we tried their warm s'mores pie ($8) and their sour cream donuts ($8). If you are a chocolate fan, the warm s'mores pie is definitely the way to go.
Bannock
401 Bay Street, Toronto, ON  M5H 2Y4  » View Map
t.416.861.6996