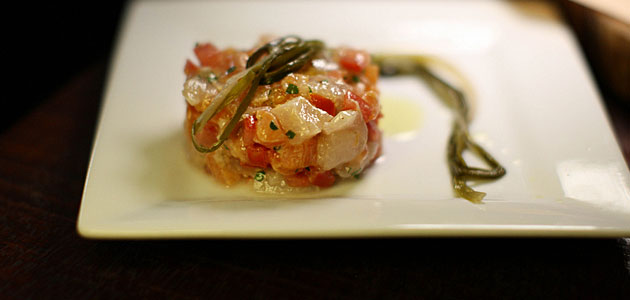 Local Kitchen & Wine Bar
---
Friday night and we drove out to Queen West to try the Local Kitchen & wine Bar that serves Italian inspired food. The name speaks for itself, featuring local wines in the Niagara region with local ingredients.
Friendly atmosphere that is very cozy and homey. Menu is small with long list of daily specials, mainly small plates for sharing.  So, that's what we did.  We started with small plates – Pig in a jar; Fish tartar and Eggplant fries with maple syrup.
The Pig in a jar is a pate with mixture of pork shoulder seasoned then smoked, served with slices of green apple and mustard on the side. You can totally taste the smoky flavour. The Fish tartar is a mixture of trout and white fish, very refreshing and citrusy.  The eggplant fries were delicious with the maple syrup.
Since we enjoyed the previous small plates, we had 2 more – The anchovy crostini; one bite and it melts' in your mouth. And the green tomato with ricotta that even Joe (that does not eat cheese) totally enjoyed.
For the main, we ordered from their regular menu, pasta stuffed with ricotta served with pancetta, radishes and Swiss chard – lovely flavour and not heavy at all.  And the seared char fillet served on a bed of eggplant caponata.
With 5 small dishes and 2 main, who has room for dessert.  I guess we'll have to go back for dessert another time.
Dinner for 2 was around $100 plus wine
Local Kitchen & Wine Bar
1710 Queen Street West, Toronto, ON  M6R 1B3 » View Map
t. 416.534.6700