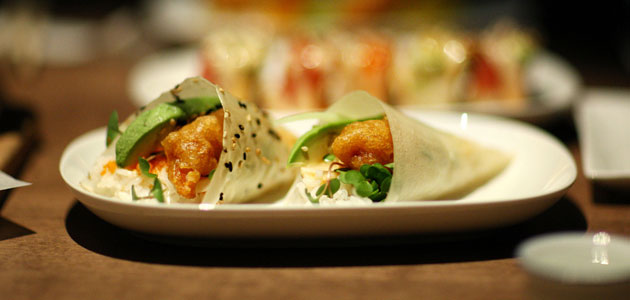 Joey Eaton Centre
---
Joey has finally opened their second location in Toronto – in the heart of the city, by the Eaton Centre.  For those that have been around for a long time, that location used to be JJ Muggs.
Like the Don Mills location, the grand opening is just as buzzing. Food stations are setup both upstairs and downstairs with servers bring drinks around.
While the menu is similar to that in Don Mills, the Sushi section is unique to this location. There's the Rainbow Roll made with Ahi tuna, sockeye salmon, crab and avocado, drizzled with sriracha aioli, topped with black sesame.  With that combination, it's hard to go wrong.  The sushi cone was just as impressive, wrapped in a rice crepe with tempura prawn, avocado, cucumber and spicy mayo.
Upstairs, a charcuterie table was setup to showcase their cheese and meat board, which is also a highlight in this location. The board offers three different varieties of meats, cheeses and condiments.  The meats consist of Speck (center cut of prosciutto), the Bresaola (a beef loin that is salt cure and then marinate for 2 weeks in red wine and it creates a dry rub on the outside and then air dry for 4 to 6 months) and Colby (a Hungarian style sausage). The three cheeses are goat cheese from Holland, 10 years old cheddar from Quebec and Brie cheese from Burgendy. The three condiments are mixed marinated olives, candied pecans and quince paste. It's a great platter for sharing.
If you like Joey Don Mills, than you will enjoy Joey Eaton Centre just as much if not more.
Joey Eaton Centre
1 Dundas Street West, Toronto, ON  M5G 1Z3  » View Map
t. 647.352.5639