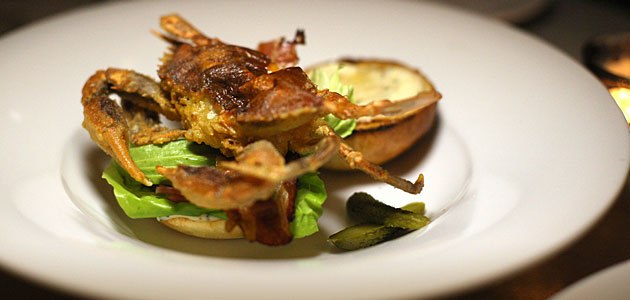 Delux
---
As you're driving along Ossington, you'll notice there're a growing number of bars and restaurants. Delux has been there since 2008.
Delux menu is simple, consistent of 12 items with standard French bistro items like steak frites and duck confit.
We started with their Assiette de charcuterie – a pork terrine (pork shoulder done with some sweet bread, garlic confit, black pepper), pork rillette (pork cooked with duck fat), chick liver mousse, served with grainy mustard, pickled raisins and toasts.  The sweetness of the raisins adds a really nice touch to the terrine and rillette. Makes a great starter for sharing.
We also had their appetizer special – a softshell crab.  The presentation was beautiful, you can see the full crab sitting nicely on top of the lettuce, avocado slices, bacon and aioli. The combination was flavourful and you can taste the crab, not the grease.
For the main, my friend and I had their pan roasted pickerel with house made chorizo, roasted red pepper, and smoked tomato. While the guys had steak frites and house made lamb sausages.  We really enjoyed the pickerel ­– skin nicely crisp and the chorizo tomato sauce pairs really well with the fish.
To wrap up the evening, we each had a spoonful of their Cuban coffee crème bruleé with coffees.
Delux Restaurant
92 Ossington Avenue, Toronto, ON  M6J 2Z4 » view map
t. 416.537.0134