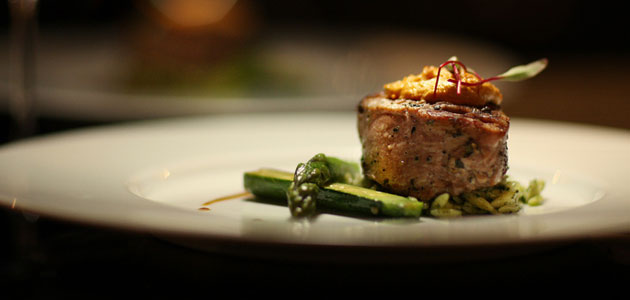 Brassaii
---
It's our first time coming to Brassaii since last year's renovation. The space is fabulous. As soon as you're greeted by the hosted, you enter into a lounge with a glass bar. The dining room is located behind the glass bar where you see the other side of the glass bar.  In addition to the open space, there're also additional rooms behind the kitchen for private functions.
It's Tuesday night, there's a live band – Holly Clark with friend and we were invited to try their new spring menu. It's a five courses meal with a good variety of seafood and meat.
Upon seated, we were offered a glass of Prosecco to open up our appetite. Ostrich Carpaccio was the opening dish. While we've had ostrich before, this is the first time having it as a Carpaccio served with truffle white bean and mushroom salad with mustard aioli.  The meat was super lean, no marbling at all, combines nicely with the texture of prince mushroom.
The second dish is the Lobster corn fritters followed by the grilled Ahi tuna, served with artichoke, tomato & caper salsa and chive mashed potatoes. Nicely grilled with perfect redness in the middle.
The last savory dish is the veal tenderloin medallions. It's super tender, tasted like milk fed until I found out it's actually 'Provimi' veal (derived from PROtien, Vitamin, Mineral). Milk is just part of the process in the feeding of this premium veal. Hence, the super tenderness, the knife just glide through the meat effortless.
For dessert, it was a trio of chocolate affair.  A cupcake, white chocolate mille-feuille and milk chocolate chill ice cream.  The cupcake was super rich, tasted almost like a flourless chocolate cake.  And last but not least, lattes to finish off the evening.
Brassaii
461 King Street West, Toronto, ON  M5V 1K7 » view map
t. 416.598.4730