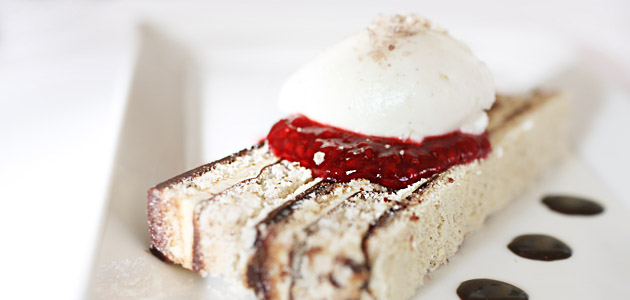 Peller Estates Winery Restaurant
---
We've dined at the Peller Estate Winery Restaurant many times and it's always fabulous. Headed by executive chef Jason Parsons who recently launched a new cookbook 3 Chefs with Massimo Capra of Mistura and Michael Bonacini of Oliver Bonacini Restaurants. Happy to say I have a copied signed by all 3 chefs.
This time, we wanted to check out the Icewine Festival with a few friends and decided to try the Icewine Brunch at Peller's restaurant. The restaurant overlooked the vineyards, a stunning wintry scene that is quite breathtaking. In the summer, the greenery is just as refreshing. Our friends were quite impressed given it was their first visit.
For starter, I had the "Pingue" Pork Prosciutto and Pickled Beetroot Salad and Joe had the Chef's Signature Parfait. The salad was lovely with the Woolwich Goat Cheese. The Icewine sugar crust on the parfait adds a beautiful crispiness to the silky smooth parfait. Followed by a rich and creamy Butternut Squash soup topped with Icewine froth and a toasted pecan.
The main courses were just as impressive, the Sweet Panko Crusted Black Cod melts in my mouth – it was delicious. Instead of your typical Eggs Benedict, at Peller, it's the Scallop Benedict, topped with 3 large scallops on top of the pea meal bacon. One of our friends had the Steak and Egg. I had a small bite and the steak was perfectly cooked.
We finished off with lattes and desserts. Joe and I shared the White Chocolate Cranberry Cheesecake and the Layer Hazelnut Torte. I think we both inhaled the Hazelnut Torte.
Just when we thought we had enough sweet, my friends couldn't resist trying the Icewine marshmallows roasting over an open fire. Which I must admit everyone needs to try it, at least once in their life time.
Icewine Brunch $47.95 per person, with 3 course wine pairing $25 additional
Peller Estates Winery
290 John Street East, Niagara-on-the-Lake, ON L0S 1J0 » view map
t. 1.888.673.5537