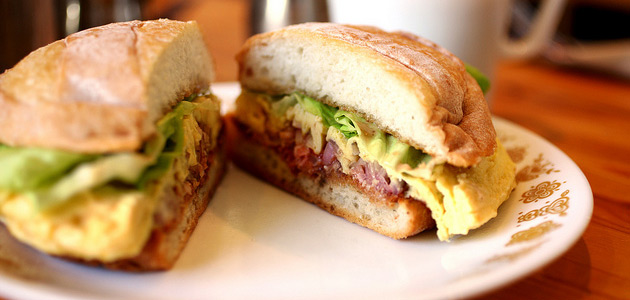 Morning Glory Cafe
---
We were driving around Corktown Sunday morning and found this little spot – the Morning Glory Café. First impression – very warm and homey, décor reflects the 70's retro style.
Menu is simple, breakfast fare and sandwiches. Specials are written on the chalkboard and are not in the menu. The couple sat next to us had the waffles and sausage with cranberry orange compote, which looked delicious.
We started with coffees and decided to try two of their more popular items.  The Morning Glory Western and the Jimmy Screech. The Morning Glory Western is a scrambled egg with ham, mushroom and red onion served on a toasted hand-rolled bun with lettuce, ketchup and aioli.  This sandwich gives reminiscences of how my brother and I used to stir ketchup into our scramble eggs when we were little – fond memories.
As for the Jimmy Screech, I thought it was quite clever of having a fried egg cooked right into the bread – a twist to the traditional croque-madame (ham and cheese sandwich topped with a fried egg).  Instead of having the egg sits on the sandwich, it's cooked into the bread.  Taste great and you can skip the fork and knife.
Service was prompt and friendly.
Brunch for 2 was around $20
Morning Glory Cafe
457 King St. East Toronto, ON  M5A 1L6  » View Map
t. 416.703.4728