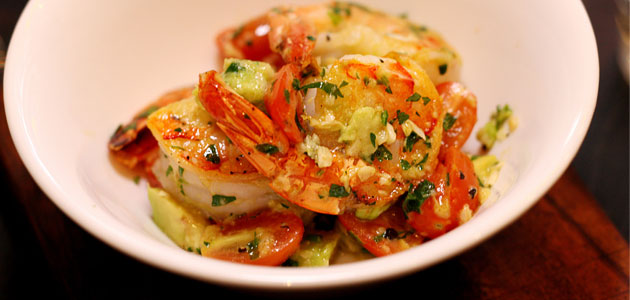 Mercatto
---
While there're three locations for Mercatto, we decided to go to the one by the Mars building on College. Casual and friendly atmosphere, it was the perfect spot for a last minute gathering with friends.  And small world, we ran into an old colleague.
Simple menu with an extensive Italian wine list, our first choice was unfortunately sold out. So, we splurged and had 2 bottles of Geografico Chianti Classico Montegiachi Riserva at $65 per bottle.
We started with a few antipasti that include Barbabietoli (roasted beets, orange, balsamic), Funghi Misti (wild mushrooms, parmigiano, bread crumbs), Zucca (roasted winter squash, fried sage), Proscuitto (salt cured Berkshire pork leg), Coppa (cured pork shoulder), Polipo (grilled octopus, cannellini beans, celery, peperoncini) and two cheeses – Burrata (fresh bufala milk) and Baluchon (organic cows milk).  Loved the variety and it's perfect for sharing. Joe's favorite was the mushrooms and shrimp.
What's great about Italian and Chinese food is that it's all about sharing. This way, we can try everything – pasta, pizza, meat and a fish dish.
For pasta, we had their Pappardelle with wild mushrooms, truffle and grana padano (cheese).  You can definitely taste the truffle and the cheese – it was a great combination.  Pizze, we had the Maialina, the meat lover pizza with sausage, pancetta, salami, tomato and mozzarella which you really can't go wrong. For the meat dish, we had the Manzo – braised short ribs served with caramelized onions, rough mash and horseradish. Portion was very generous and I think we just inhaled it. And for the fish, we had the daily special, which was a Sea Bass served with black olive, caper, zucchini and white bean puree. The skin was nicely crisped.
As for dessert, we decided to try one of each, their Chocolate warm Lava Cake, Caramel Pudding topped with sea salt with whipped cream and Budino, which is a white chocolate blood peach gelato. It's not difficult to figured out the warm lava cake was the hit.  Finished off the evening with coffee and tea.
Dinner for 5 was around $315
Mercatto
101 College St. Toronto, ON  M5G 1L7 » View Map
t. 416.595.5625