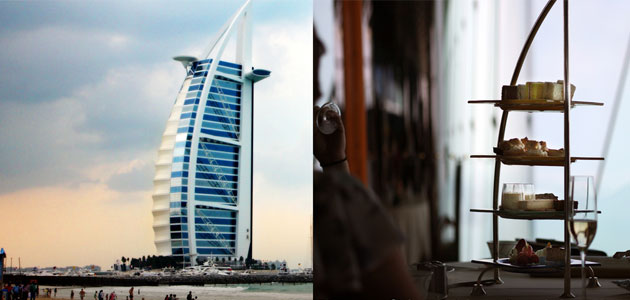 Burj Al Arab – Jumeirah, Dubai
---
Thanks to our traveling buddies, we were able to experience the culinary flight luncheon at Burj Al Arab, Jumeirah. It was quite amazing; each course takes you to a different restaurant.
Since there were fourteen of us, we were seated in a private dining room for our first course at Al Mahara, their seafood restaurant. Entering into the dining room was like entering into a James Bond movie set, you are in awe at the gigantic aquarium. Here, we had our first course, a choice of one of the six cocktails, bread basket and the starter.
I tried the Amaro Mora – mix of vodka, campari, orange juice, lemon juice sugar syrup and blackberries – looks pretty sexy. The squid ink bread was definitely the highlight within the variety of breads in the basket – unique and flavourful. The starter was a foie gras & smoked eel terrine with red-black fruit pickles served with toast. The presentation was very artfully display. To get the perfect bite, you have to slice it like a cake. Right down in the middle then slice it in quarters since the eel is in the center of the terrine. Very original in taste and you can definitely tasted the smoky flavour of the eel.
As we were heading to Al Iwan, their Arabic restaurant for our intermediate course, nothing prepared us of what we were about to experience – a buffet with a wide selection of Arabian dishes, seafood station, bread station, soups, salads, appetizers and desserts. The challenge was to pace yourself since we still have our main course and dessert in two other restaurants. Needless to say, most of us went for the seafood – lobster, oysters, sashimi, crab, and shrimps. I did however manage to try a few Arabic dishes such as their mix meat skewers, grill fish and the lamb stew. It was very good, but a bit overwhelming given it was only our second course.
Our main course take place at Al Muntaha, their European restaurant located 200 meters above the sea level.  As you take the glass elevator ride to the top, the view was breathtaking. Never a dull moment, to enter the restaurant, you walk through an interesting looking tunnel – like a theme park ride. Once you're in the restaurant, the view was magnificent; you can see the Palm Islands and it's nearby surroundings. And there was a pianist playing on a white baby grand piano. It was quite lovely.
You have a choice of the pan seared corn fed chicken breast or butter poached halibut fillet. Joe and I had one of each so we can share and try both. The chicken was nice and moist. The side mushroom and potato millefeuille was delightful and the beetroot fondants were really interesting. The halibut was just as impressive, beautifully cooked and it was delicious. The side dish was a coco bean and little neck clam ragout served in a miniature copper pot – it was really tasty.
For dessert, we were escorted to Bab Al Yam, their poolside café overlooking the sea. Dessert was a sampling platter of five most popular desserts. So to be sure, you will find something you like. The chocolate mousse was served in a chocolate shell circular bowl with a cap. Then there's the cheesecake with blueberries compote, lemon sherbet, crème brûlée topped with Burj's signature chocolate, and a slice of a strawberry terrine. They were all very lovely, and we finished off with coffee and tea.
It was definitely considered once in a lifetime experience.
Price per person: $255 Cdn
Burj Al Arab – Jumeirah, Dubai
Dubai, United Arab Emirates, 04 301 7777 » view map
t. 971 4 3017600