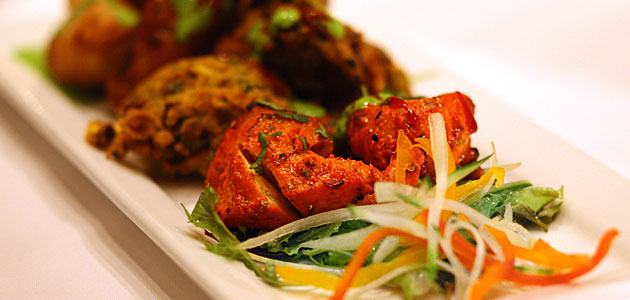 Amaya The Indian Room
---
We met up with a few friends at Amaya The Indian Room. Amaya isn't a new restaurant, it's been around for a few years and they also have Amaya's bread bar for casual dining and Amaya express for takeout and delivery.
When you think Indian cuisine, you think of butter chicken, tandoori and curry. Funny enough, as soon as we sat down, one of our friends mentioned she wanted butter chicken even before we checked out the menu.
I was given the task to order for all of us since I've been to India. But interesting enough, the menu at Amaya has some unusual items that I don't believe I've seen in any menu.  – duck and ribs.
We decided to share everything, so we started with their mix platter, prawns and pakoras. I didn't realize pakoras was also included in their mix platter. Other items in the mix platter included tandoori chicken, samosa and sausages. We all really enjoyed the tandoori chicken as it was moist and tender. The prawns were also quite lovely, very flavourful and cooked just right, with a good bite.
For the main, we had their adraki duck, parsi ribs and fish and prawn masala. The duck breast was roasted with kumquat and ginger chutney – interest flavour and it was quite delicious. The parsi ribs was very saucy – perfect with the naan and rice. The fish and prawn masala were perfectly cooked with a good texture, not mushy.
After ordering, I realized I forgot to order butter chicken as what our friend requested, but then again, I don't think I saw butter chicken in the menu. She was fine with it, as everything tasted great.
We also had three vegetable dishes, coconut green beans, saag paneer and their eggplant steak – stuffed with cauliflower, carrots and potato, very interesting presentation (forth photo from the left).
With our server recommendations, we had an assorted bread basket and 2 basmati rice to share – it was plentiful.
On our way out, there were still customers waiting to be seated, so reservations recommended.
Dinner for 5 with 3 bottles of wine was around $400
Amaya The Indian Room
1701 Bayview Ave. Toronto  ON  M4G 3C1 » view map
t. 416.322.3270