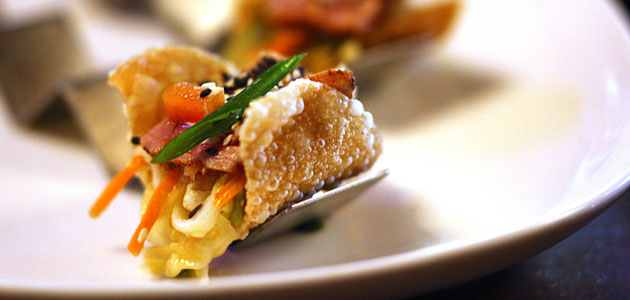 Joey Don Mills
---
We attended the launch party of Joey Don Mills Grill / Lounge in September organized by Maverick PR.
We must of tried about 10 different dishes from their menu (appetizer size of course) and it was pretty amazing. The variety of food was global – from the Far East, we have the Ahi tuna tacos, pan fried gyoza and Penang prawn curry bowl. From Indian, we have the Tandoori chicken flatbread and the Bombay butter chicken. Representing the Italian, we had the spicy Italian flatbread and lobster ravioli. And last but not least, the cheeseburger sliders, lobster grilled cheese and individually baked apple pie from North America.  To be sure, there is something for everyone.
The drinks were just as impressive. The back of the bar has an Enomatic wine system that preserve the wine as it's pouring from the bottle using an inert gas preservation technology. Therefore, they can offer more variety of wines by the glass. So, I tried the Heartland "Directors Cut", Shiraz from Australia – paired great with the spicy Italian flatbread and the cheeseburger; while Joe had Sonoma Cutrer Chardonnay.
Joey also served up some pretty cool cocktails so I tried their most popular Super Nova Vodka Sodas in raspberry flavour and their Peach Bellini. I'm normally not a cocktail drinker, but these were quite delicious. The Peach Bellini was almost dessert like.
It was a busy night for the staff. They were all very cheerful, friendly and professional. We spoke to some of them and it was interesting to find out that some of them flew in from other Joey's restaurant out West for this opening. This is to ensure a smooth opening and to provide proper transition to the local staff – quite impressive.
Just before we were about to head out, we met Executive Chef Chris Mills, who gave us a tour of the restaurant with a few other guests. While the launch party took place in the bar/lounge area, there's the other side of the dining room and upstairs – the future patio. Totaling 9,000 sq. ft. that can easily accommodate 200 guests.  While we were up at the patio, Jeff the owner came over to our group gave a few words. His motto for Joey is "dress for the occasion, not the restaurant".
Joey Don Mills
15 O'Neil Rd. Toronto  ON  M3C 0H2  » view map
t. 416.445.6391