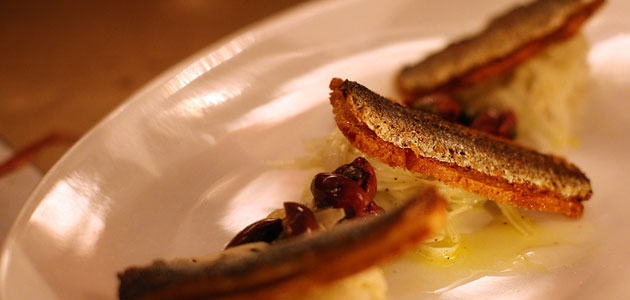 L'unità
---
Both our friend and I realized when we arrived at L'unità, it's where Arlequin used to be. Same structure – long and narrow. Where it used to be take away is now a bar.
Since we all wanted to try a little bit of everything, I ordered a bit of everything for all of us to share. With some recommendations from our server; we started with 2 antipasti, the northern woods mushrooms and the artisanal salumi board.  The charcuterie board included Berkshire prosciutto, house-made pancetta, Genoa salami from Quebec and pork liver sausage. We all thought the pork liver sausage texture have a close resemblance to Ren Chang (膶腸) Chinese sausage. Though, Chinese sausage is never eaten as is – always further cooked.
Then came the sardine crostini and caesar salad. The sardine was very flavourful and the crostini was thin and crispy –  almost wafer like.
For the entreé, we had the margherita pizza, lobster risotto, braised beef short ribs and a side of greens. The tomotoes served on the pizza was still plum and juicy.  The risotto was creamy with a nice bisque flavour.  The short ribs were delicious. It was juicy and tender where the meat comes off cleanly from bone with a gentle pull from the fork.
We were all quite full at the end and weren't thinking of ordering dessert, but our server highly recommended the mascarpone cannoli – evidently an all time favorite. So, the five of use shared the cannoli and the fig & date crumble – perfect with cappuccino.
Dinner for 5 with 2 bottles of wine was around $390
L'unità
134 Avenue Road, Toronto  ON  M5R 2H6  » view map
t. 416.964.8686
jxcd7gsw39