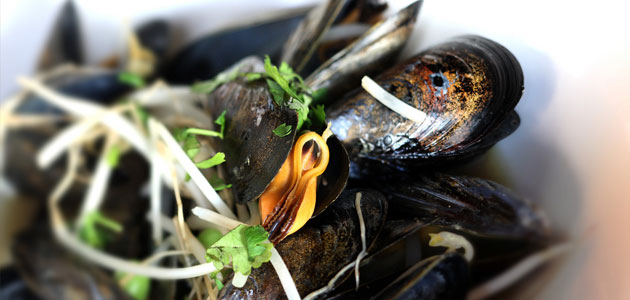 Loire
---
What used to be Olive & Lemon is now Lorie that serves French cuisine. Modestly renovated with a large outdoor patio.
The four of us decided to sit outside since it was quite nice. We figured we better take advantage of the weather while we still can since fall/winter is just around the corner.
We started with the steam PEI mussels and the raw oysters. The mussels's ponzu flavour broth was light and tasty, served with edamame and bean sprouts – a bit of Asian influence. The pungent sauce that served with the oysters was delicious, can easily be use to as a dipping sauce for other shell fish.
I had the wild sea scallops and Joe had the duck. The scallops are served with caramelized artichoke and fennel. Because the scallops are wild without additives or preservatives, you can actually taste the scallops. The duck was served two ways – confit duck leg with plum Szechuan peppercorn compote and duck breast. The breast was seared medium served on a bed of spinach with honey mushroom and citrus pepper sauce.
One of our friends had the New Zealand lamb burger served with fries. I must confess, it's probably the first time I've seen a burger served between 2 pieces of toast instead of bun.
I think I got too caught up in the conversation and accidently spill red wine over myself. And wouldn't you know it, I was wearing white pants. So, we headed back at our place for coffee and dessert.  Good news, the stain came off.
Dinner for 4 without dessert but with wine was about $230
Lorie
119 Harbord Street, Toronto, ON  M5S 1G7 » View Map
t. 416.850.8330