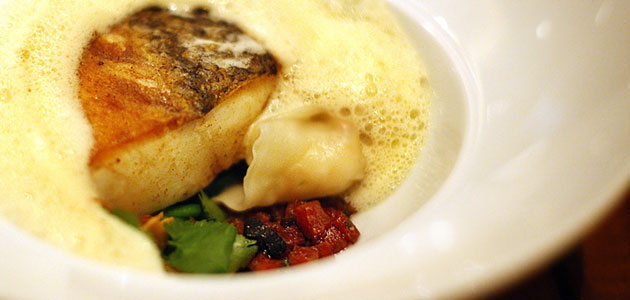 Harbour NY
---
According to the server, the owner loves the sea, this explain the nautical interior in the dining room. Service was very accommodating and friendly. In fact, even the patrons who sat next to our table was friendly. It was also their first visit to
Harbour and they even invited Joe to take a photo of their scallop entreé – which looked fabulous.
Menu was simple, they even had an under $25 wine menu. There were 5 different type of bread to choose from, I really enjoyed the walnut and raisin bread.
The amuse bouche was a vegetable cold soup served with a marinated plum in a shooter. We had 2 appetizers – wild striped bass sashimi and pork belly served with watermelon, tamarind & mint. The pork belly was lovely, it literally melts in your mouth. According to our server, the pork belly was cooked in a humidifier for 48 hours. This slow cooking technique is able to achieve a slow crisping of the skin while retaining the pork's natural jus.
We had the Spanish mackerel and wild striped bass as the entreés . The bass was served with yellow curry foam along with small bits of lap chong (Chinese sausages) and shaomai (Chinese dimsum). The combination of the light foam, softness of the bass and hard flavourful lap chong creates a very interesting palate – quite different.
Dinner for 2 with wine but without desserts was about $120.
Harbour
290 Hudson St., New York, NY 10013 » View Map
t. 212-989-6410