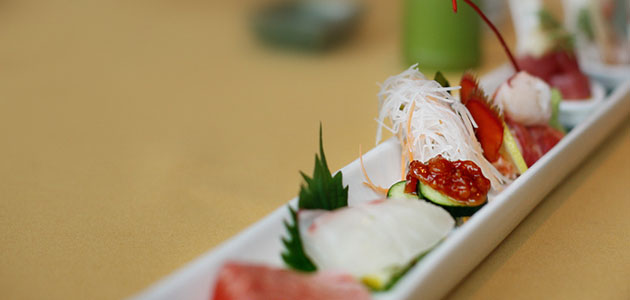 Sushi Kaji
---
Located in Etobicoke on Queensways, Sushi Kaji can easily be missed if you're not looking for it. At least that's what our friends said when we told them to meet us in the restaurant.
Joe and I have ate here a few times and it's always a gastronomical experience for us. You get to choose from 3 tasting menus – Takumi (9 courses) at $120, Waza (7 courses) at $100 or Iki (5 courses) at $80. Obviously the 4 of us opt for Takumi along with cold sake. You actually get more courses than what is listed in the menu as you can see from the photos.
We started with asparagus noodle in tomato cup & clam rice. In the third photo from the left, the clam rice is served wrapped in a leaf and the noodle is served inside the tomato cup. The four of us stare at it for the longest time because it was so pretty that we didn't want to break it apart. In the end, we ate the tomato cup and it was very juicy and tasty – a great summer dish. The second dish was a marinated lotus root with yuzu (an east Asia citrus fruit) jelly then followed by deep-fried flounder marinated in vinegar. Sashimi was our middle course and it was our entire favorite.  The fish selection included sea bream, trout, lobster, tuna and scallop.
Overall, the food was a feast for the eye as well as our palate. Some of the dishes were very crafty and I can only imagine very time consuming to prepare. There was the chicken cake wrapped with Japanese eggplant (that's the last photo in the top row), just imagine the delicacy of wrapping slices of eggplant around the chicken without tearing the eggplant. I can't decide whether that's more challenging or scooping the inside of a ripe tomato to form a tomato cup. Then there was the grilled barracuda & corn with butter & soy sauce (first photo in the 2nd row). Each corn kernel is assembled onto a fish cake so it looks like a corncob while the grilled barracuda is served on top.
I started the meal by looking at the menu as each course was served to us and by the time we reached the sushi and noodle, I think I lost track, as there was a few courses that was not in the menu. I gathered that's Kaji's way of ensuring you're stomach is full and satisfy.
Sushi Kaji Restaurant
860 The Queensway, Etobicoke, Ontario M8Z 1N7  » view map
t.416.252.2166