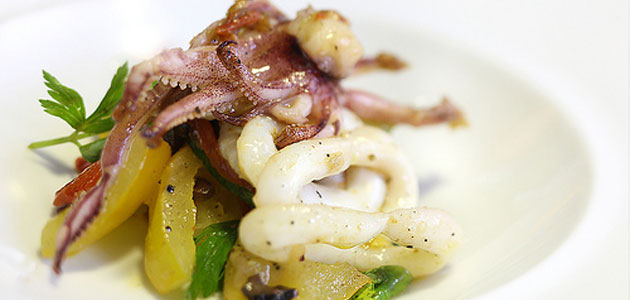 Vertical
---
Although the menu for Summerlicious in Vertical was $45 per person instead of $35, the selection in the menu speaks for itself.  The sautéed squid served with the salad of cucumber, tomato, peppers & moroccan olives and the whole Branzino (European Seabass) was definitely the highlight.  I have to confess that it was the Branzino in the menu item that I picked Vertical as our Summerlicious dining destination with our friends.
The benefits of dining with more than just the 2 of us are great cause we get to try more dishes.  Joe had the grilled veal T-bone, our friends had the pappardelle (Italian pasta) and whole Branzino.  You can choose to have the Branzino served as whole or deboned.  Jimmy had his deboned while I had my whole (as seen in photo).  I wouldn't have it any other way as I always enjoy diving into the fish cheek. The Branzino was served with almond and mint picada – the fish was nicely grilled with crispy skin. The pappardelle was served with twelve hour braised wild boar and parmigiano reggiao – well textured and tasty.
For dessert, we had the dark chocolate flan and vanilla shortcake. Finished off with coffee and cappuccino.
Dinner for Summerlicious is $45 per person.
Vertical
First Canadian Place, 100 King Street West, Toronto, ON  M5X 1E1  » view map
t. 416. 214.2252