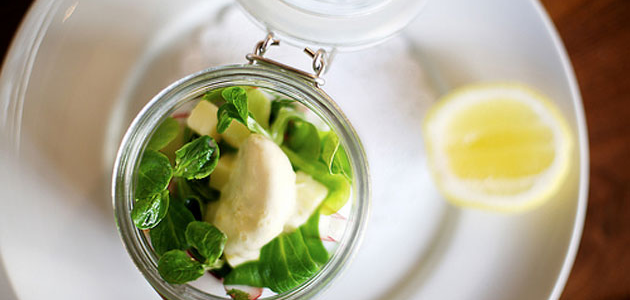 Mildred's Temple Kitchen
---
Formerly known as Mildred's Pierce, this new location in Liberty Village is now Mildred's Temple Kitchen. We've been to this location for brunch before, but our first for dinner. The open concept kitchen works quite well within the spacious interior.
As usual I asked our server, what's most popular and what are his favourite. For starter, he recommended the dungeness crab salad and the warm Ontario asparagus salad with spring mushrooms, poached quail eggs & Italian bread croutons. For the main course, he suggested the roasted chicken breast biryani (evidently, an all time favorite) and the grilled Italian eggplant with stewed tomatoes.
I had the crab salad and the eggplant – both were very good. The crab salad was served inside a glass container as per photo above, very unique and different.  You squeeze the lemon and stir up the heirloom radishes and Dijon ice cream to get the perfect bite. The eggplant was very tasty, thick and juicy, not mushy.  Joe had asparagus salad and the Ontario veal brisket braised in ale with fava beans, wild mint & queso fresco raviolo. The quail eggs and the squid was a nice touch to the asparagus salad. One of our friend had roasted chicken breast biryani. And of course, we ordered the frites to share among the 4 of us.
We skipped dessert and headed back to our place for tea and dessert. So dinner for 4 with 1 bottle of wine without dessert was around $260.
Mildred's Temple Kitchen
85 Hanna Ave. Suite 104, Toronto ON  M6K 3S3  » view map
t. 416.588.5695