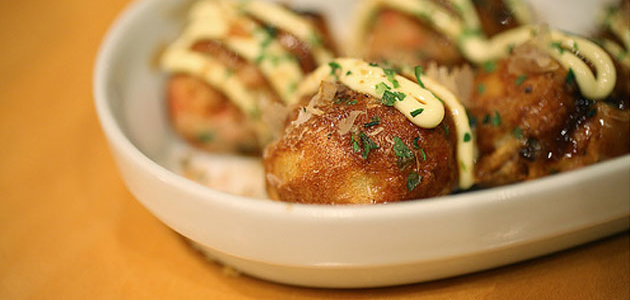 Manpuku Modern Japanese Eatery
---
Manpuku is located inside Village by the Grange along McCaul, across from Ontario College of Art and Design. Easily missed since there is no signage on McCaul.
Although their menu has rice dishes, I believe their highlights are their noodle dishes. We asked the server (which later found out was the owner), which was the most popular, and she recommended the Niku Udon (beef) and the Curry Udon (chicken). We also ordered Takoyaki (photo above), which is not available in most Japanese restaurant. The first time I had it was in Japan, a street food made in front of you served pipping hot, it was delicious. In Manpuku, there's a 20 minutes wait for this dish. Basically, it's a baked dumpling ball with bits of octopus made in a takoyaki pan.
While most Japanese udon noodle soup, toppings are served sitting on top of the noodle soup. In the Niku udon, the beef are stew-like such that the sauces are blended in with the noodle soup so you get a perfect bite every bite with noodle, beef and sauce. Similar with the Curry udon, a dish that is simple but not a standard menu items in most Japanese restaurant.
We had a chance to speak to the owner and I couldn't help but asked why just udon and not ramen. She indicated that her kitchen couldn't accommodate the on-going running water that is required to do proper ramen.
Meal for 2 was around $20, with complimentary green tea.
Manpuku
105 McCaul St. Unit 29-31
Toronto, ON 
M5T 2X4  » view map
t. 416.979.6763