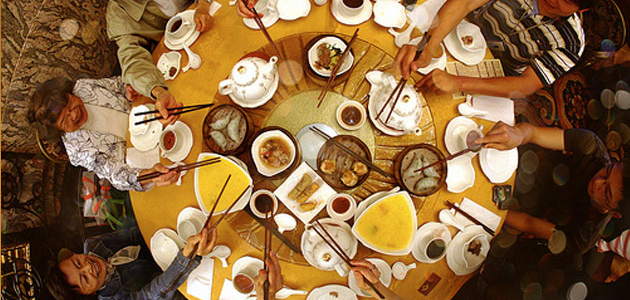 Casa-Victoria Fine Dining and Banquet
---
You wouldn't think that a restaurant name Casa Victoria Fine Dining and Banquet is actually a Chinese restaurant. I suppose that's why we always goes by the Chinese name "紫爵金宴" instead. Less confusing. This restaurant is located in Hwy 7 and Warden – hidden in a corner beside the No Frills, you can tell by the crowd outside the restaurant waiting for tables in the weekends.
In a dimsum sheet of 66 items, we checked off almost 30 items for the 10 of us; and we ended up having a doggy bag. Service was attentive and fair, like any typical Chinese restaurant. We're always amazed at how creative the restaurant can name a dimsum dish. Har Gow is actually shrimp dumpling. Here the name is "Super Har Gow-Jumbo Shrimp Dumpling". With a name like that, how can you not try the dish. It's super and it's jumbo. And yes, the dish lived up to its name. The dumpling skin was thin, not sticky and the shrimp had a good bite to it. Most importantly, the shrimps were deveined.
Other highlights included the Cuttlefish Tentacle with Salted Spice (obviously you have to like cuttlefish to enjoy this one), Snowpea Leaf & Assorted Mushroom Dumpling, with decent amount of snowpea and the Crispy Veggie Bean Cure Roll, which we quite enjoyed. Something different than the typical rice noodle roll; where you don't find in most Chinese Restaurant. For dessert, we finished off with the Black Sesame Dumpling, only good while pipping hot.
Lunch for 10 was around $140. A bit pricy if you're comparing to typical dimsum restaurant around Scarborough, Markham and Richmond Hill. It's sister restaurant Casa Imperial along Steele is around the same price.
Casa Victoria Fine Dining and Banquet
8601 Warden Avenue, Unit 4-6, Markham, ON  L3R 0B5  » view map
t. 905.948.1618